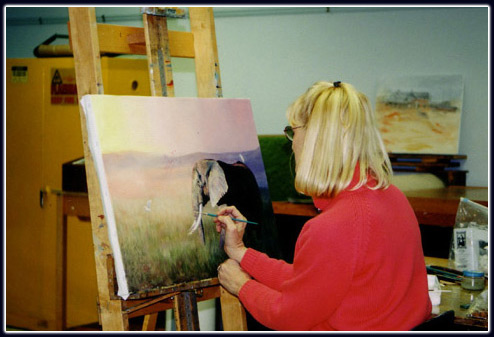 I was born and raised in Minnesota. I had a very happy childhood and have lived my life wearing "rose-colored glasses."
I have painted in my head and heart my entire life.
My career started in 1999 when two of my paintings were accepted for exhibition and sale in Sotheby's of London. One of the paintings was purchased by a New York Gallery and used for a national ad campaign.
Since that time, I have won several best of show awards, exhibited in several international group exhibitions in the UK, had a painting selected for Artist Magazine Top 100 paintings, National Oil and Acrylic Painters Soceity Best of America 2004, Rising Star Award and in 2006 had 4 bird paintings accepted in the 19th International Animals in Art Exhibition receiving the SVM Award.
While painting, I set an alarm to remind me when it is time to stop and pay attention to the rest of life. Ideas of paintings are always floating around in my head...Any little bit of glass or ray of light or feathers on the sidewalk might spark an idea. Everything is beautiful when contemplated in paint.
I paint in the old master style of layering paints and glazes. It is interesting to me to combine this tightly realistic technique with contemporary colors and whimsical compositions.
I love to paint.
1998-2000
Gulf Breeze Arts Awards - 2 Best Of Shows, 3 First Place, 3 Viewers Choice Awards

Pensacola Cultural Center - 1 Woman Show, 2 Group Exhibitions

Pensacola Museum of Art - Group Exhibition - Purchase Award

Estate Gallery - 1 Woman Show

Interstate Fair Art Exhibitions - First and Viewer's Choice
1998 - Award of Excellence PJC
1999 - Exhibited and Sold at Sotheby's of London UK
1999 - New York Fine Art Gallery National Ad Campaign
2000 - International Animals in Art Exhibition, London UK
2000 - Group Exhibiton Ringstead Gallery, Ringstead UK
2003 - Alps 2000 Group Exhibition, London UK
2003 - British Forces Foundation Group Exhibition, London UK
2004 - ARTIST Magazine, America's Top 100 Paintings
2004 - National Oil and Acrylic Painters - Best of America, Rising Star Award
2005 - Duo Exhibition IMAGO Gallery, Pensacola FL
2006 - International Animals in Art Exhibition - 75 Paintings Worldwide - 4 of Valerie's accepted - LSU
2006 - International Animals in Art Exhibition chose 1 of Valerie's paintings for the 2007 Publicity and Promotions campaign.
2006 - Meyer-Milagros Gallery, Jackson Hole WY
2007 - January Essential Guide - Southwest Art Magazine - 10 Artists to Watch
2007 - Artist in Residence Meyer - Milagros Gallery
2007 - International Animals in Art Exhibition - 2 Paintings Accepted - LSU
2007 - Rosetta Stone Gallery - Juno Beach FL.
2007 - Longstreth Goldberg Art - Naples FL.
2008 - Political Animals - National Juried Show - Naples FL.
2008 - PAINT AMERICA - Top 100 Paintings
2008 - Southeast Regional Juried Fine Arts Exhibition. HONORABLE MENTION
2008 - Paint the Parks - Top 100
2008 - Florida/Alabama Interstate Fair - Award of Distinction